Dear Former Client of Christina Gibbons Group,

It is that time of year to vote for all your local favorites in Best of Bergen 2022! Every year, (201) Magazine runs this contest to celebrate the various people and businesses that make Bergen County special - including the Realtors who have an impact on the Bergen County community.
​​​​​​​
​​​​​​​This year, we are asking past clients of Christina Gibbons Group to nominate Christina Gibbons as Bergen County's Best Real Estate Agent. A vote for Christina Gibbons is also a vote for the fantastic buyer's agents and operational specialists who have played an instrumental role in our team's success this year. When you have a moment, we would greatly appreciate your vote!
​​​​​​​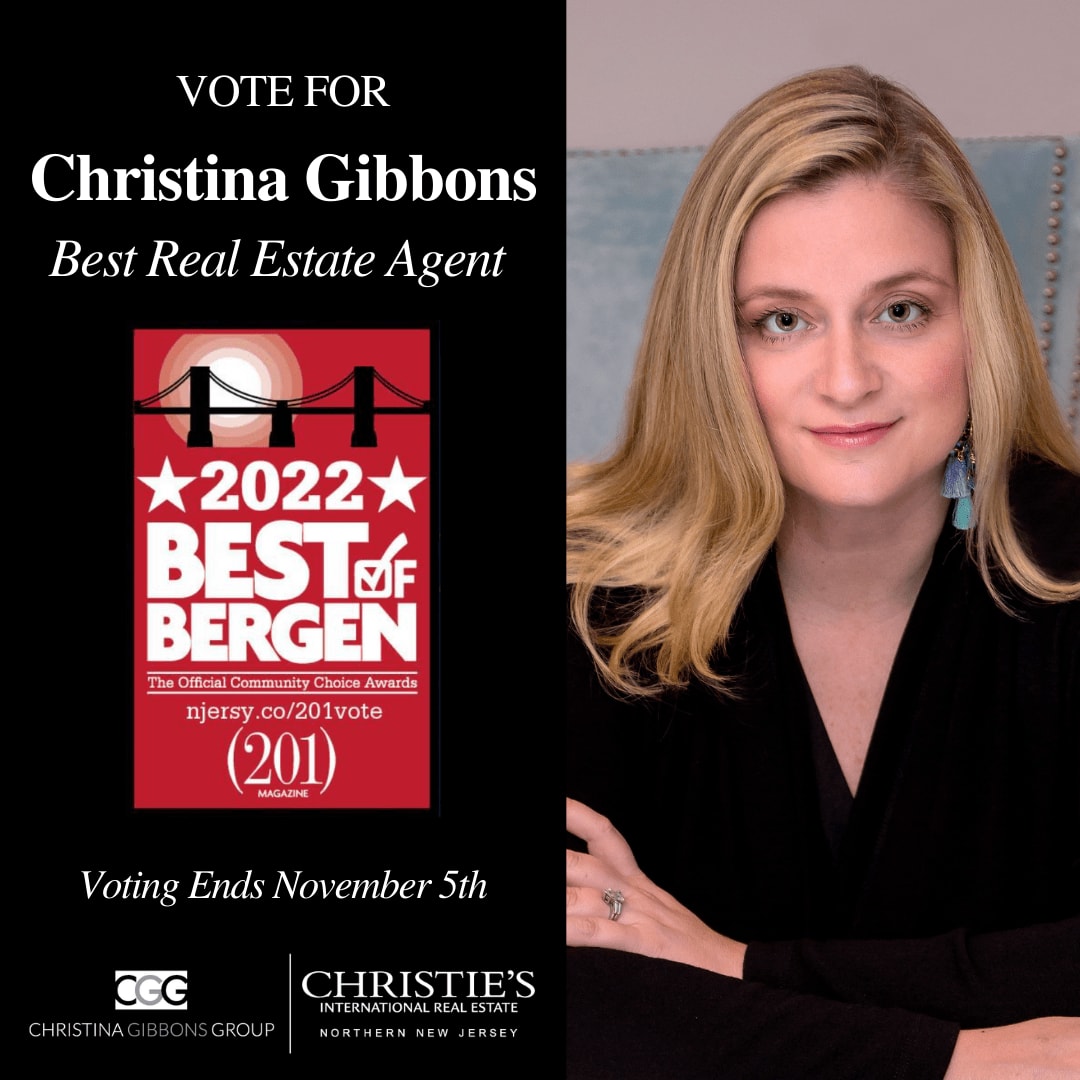 How to Vote for Christina Gibbons
Click the follow link for the North Jersey article for Best of Bergen 2022 https://www.northjersey.com/story/entertainment/2021/09/29/201-magazine-best-of-bergen-2022-readers-poll/8330643002/
Scroll down and select the category "Shopping and Services"
Scroll down to "Best Real Estate Agent"
Enter your nomination: Christina Gibbons, Christie's International Real Estate as well as YOUR email
Fill in the remaining information to register your vote.
VOTE BY NOVEMBER 5th
A Vote for Christina Gibbons is a Vote for CGG
Remember, a vote for Christina Gibbons is a vote for all the amazing members of our team whose agent bios can be found find by clicking the links below.
Christina Gibbons - CEO Christina Gibbons Group
Rosa De Leon - Buyer's Specialist
Stefanie Makhoul - Buyer Specialist
Isabelle Hnat - Operations & Marketing
Should you have any real estate needs moving forward or questions regarding how to vote for Christina Gibbons for Bergen's Best Real Estate Agent 2022, please do not hesitate to reach out. Thank you for your support!
Cheers,
Christina Gibbons Group, Christie's International Real Estate - Northern NJ
40 West Ridgewood Ave, Ridgewood NJ 07450
Cell: (917) 837-8853
Office: (201) 962-9552
Email: [email protected]