Spring has finally arrived in Northern New Jersey, and with it comes the promise of warmer weather, blooming flowers, and longer days. It's the season of renewal and growth, a time when people emerge from their winter hibernation and start to enjoy the great outdoors. One of the most beloved activities of springtime is outdoor dining— and for good reason. There's something magical about enjoying a meal al fresco while overlooking the Hudson River or a charming suburban downtown.
From seafood and gastropubs to farm-to-table fare, there are plenty of options to satisfy your appetite, and as a top real estate team in the Northern NJ area, we've gotten to know them all. Here are Christina Gibbons Group's top 10 picks for outdoor dining in Bergen County and Hudson County this Spring:
1. Felina - Ridgewood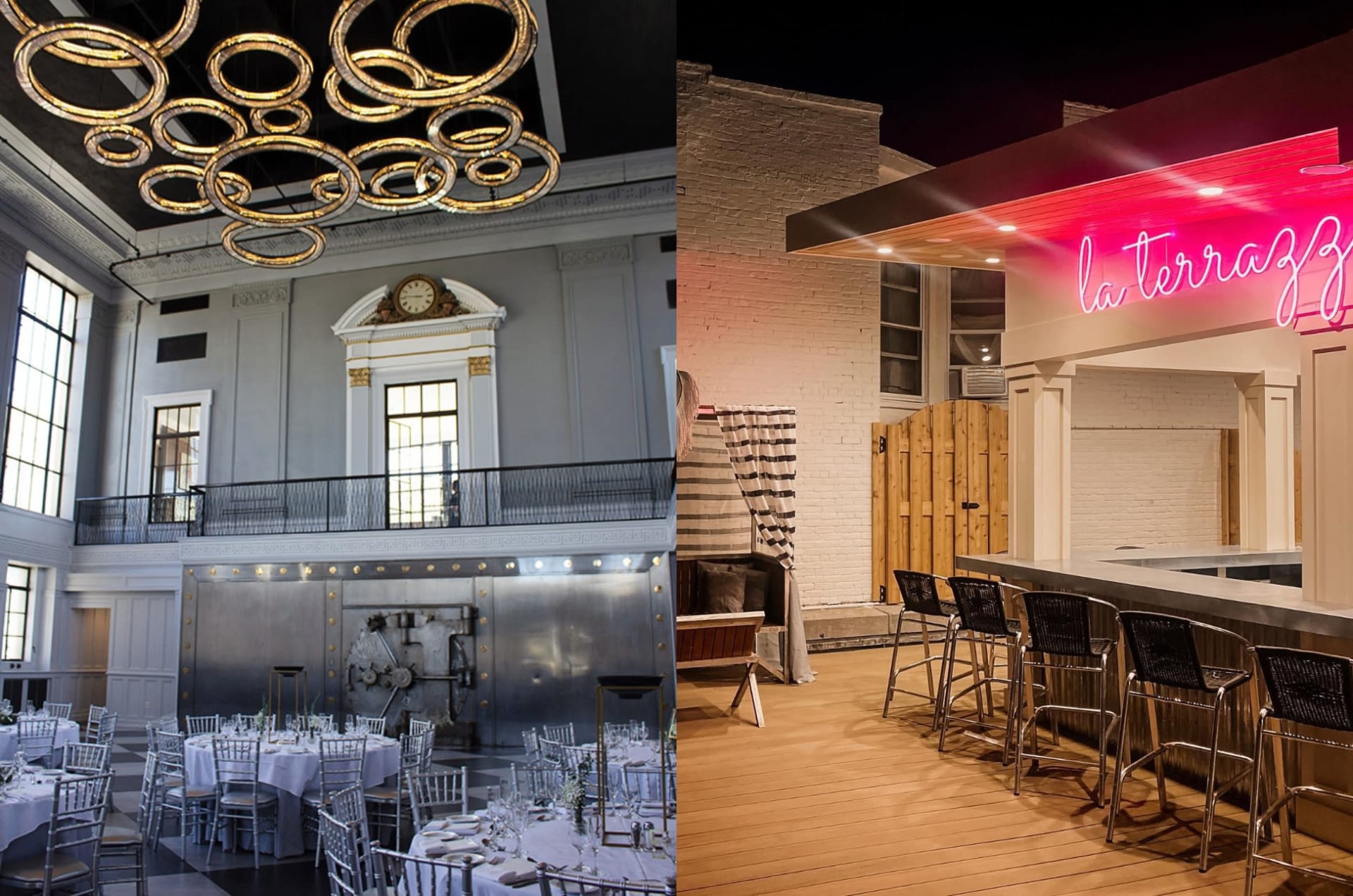 Occupying a former 2-story bank, Felina is grand inside and out and features Ridgewood's only rooftop bar - the hip "La Terrazza." The interior exudes a swanky retro-chic vibe, and the menu showcases locally grown and foraged dishes that rely on in-season ingredients and authentic Italian influences. The entire setting makes you feel like you are dining at a trendy NYC restaurant. Begin your evening indoors with a bottle from the sophisticated wine menu, and enjoy some of Felina's culinary highlights including: Bucatini Cacio e Pepe, Pan Seared Scallops, and Funghi Pizza. Continue the fun after dinner on the rooftop while exploring the cocktail menu (highlights: La Salvia Margarita, Frozen Rose, espresso martini).
2. Blue Eyes - Hoboken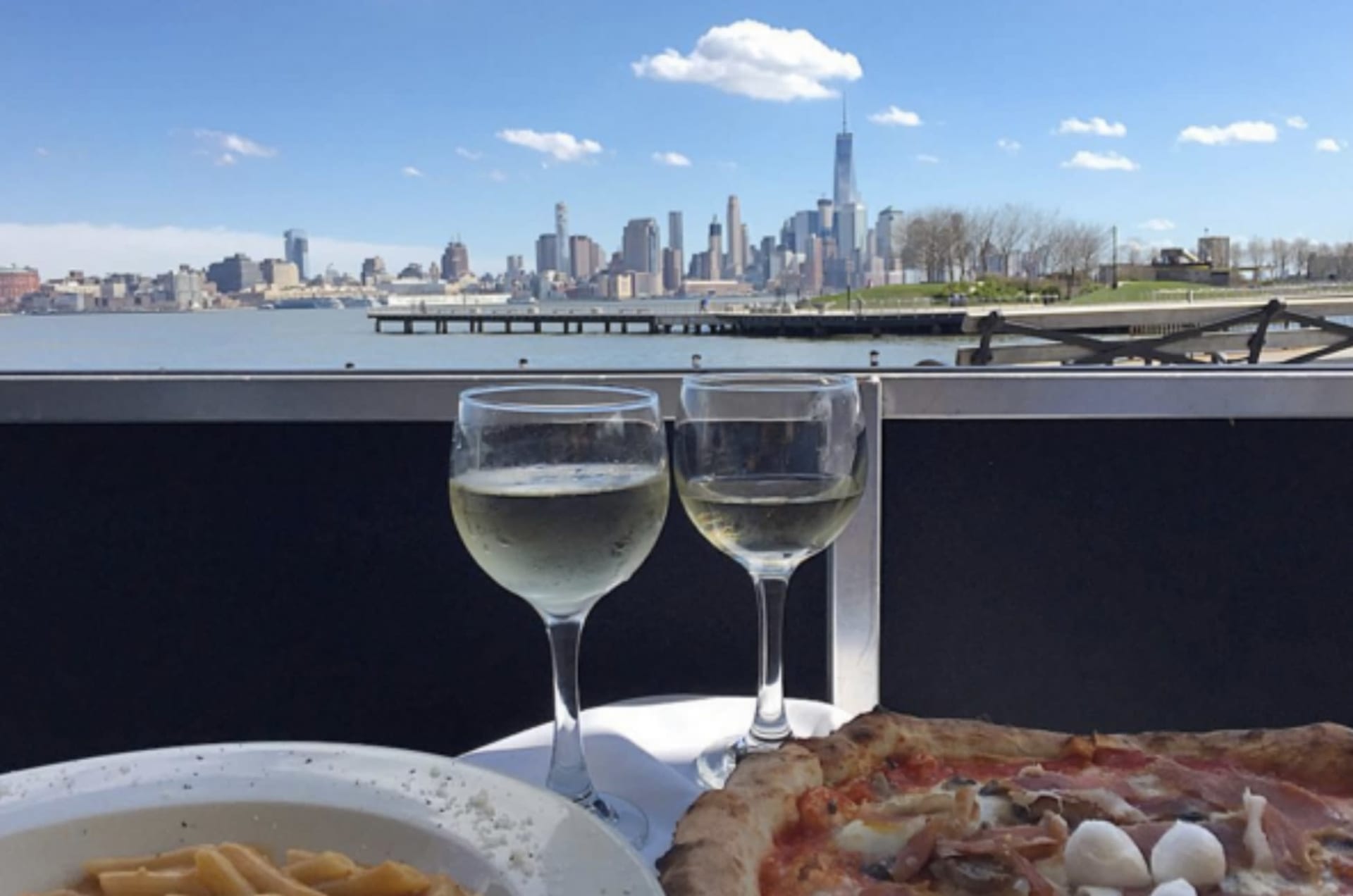 Overlooking the Hudson River, this Italian restaurant provides a serene setting for a delightful waterfront dining experience. Blue Eyes is renowned for its brick-oven delicacies and Neapolitan pizza. The eatery pays tribute to Hoboken's own Frank Sinatra, and its name bears witness to this fact. In the warmer months of spring and summer, Blue Eyes' al fresco dining arrangement along Sinatra Drive is a must-see attraction.
3. Varka - Ramsey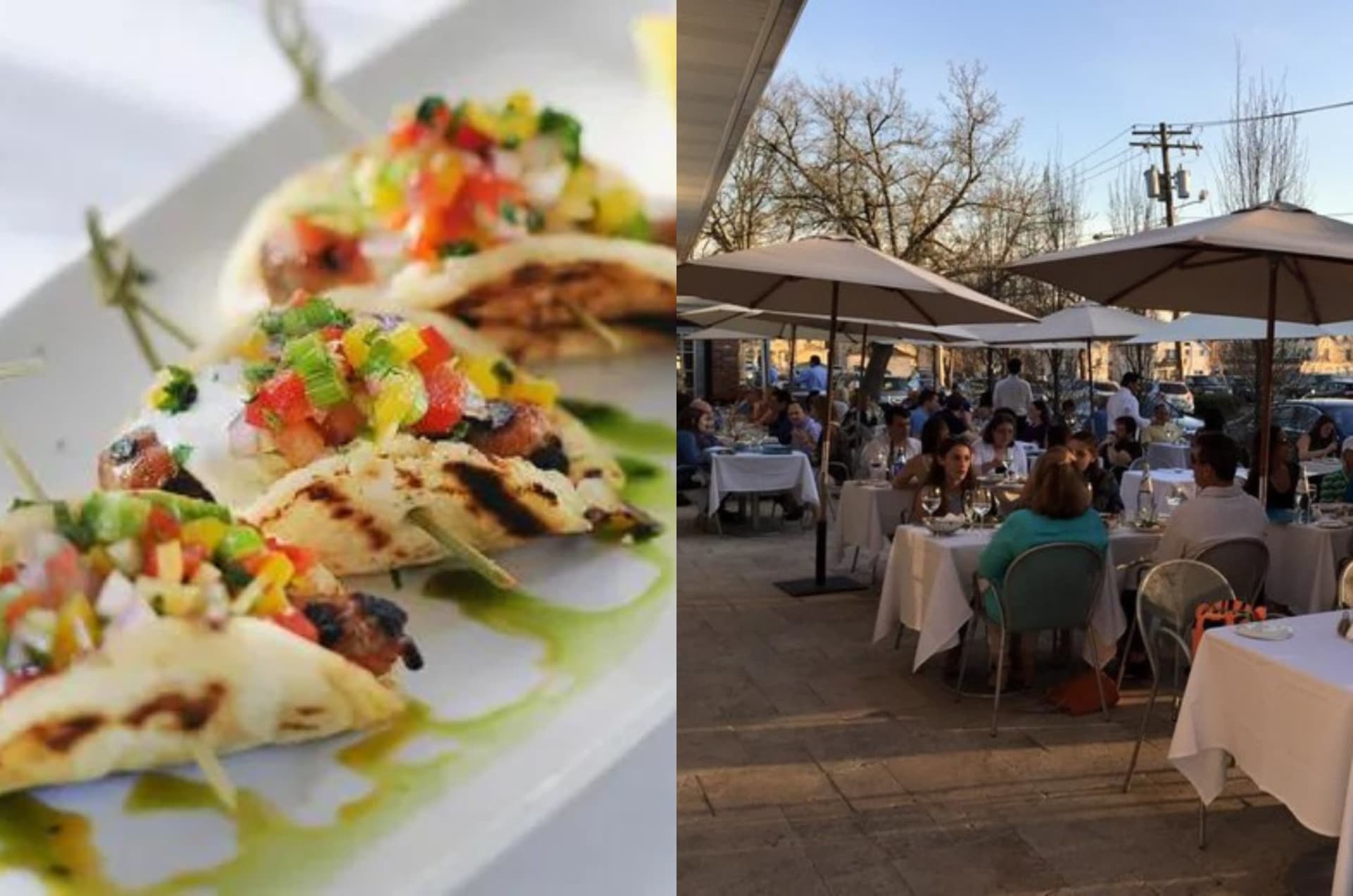 A buzzy Greek seafood eatery in the heart of Ramsey with an upscale ambiance and a 52-seat patio during spring and summer. One of Bergen's top dining destinations, popular for special events, with a menu featuring fresh ingredients, authentic Mediterranean cuisine, and specialty cocktails. Those who clamor for a table at Varka are in for a first-class culinary experience -- you will feel like a VIP at one of Mykonos' finest restaurants.
4. De Novo - Edgewater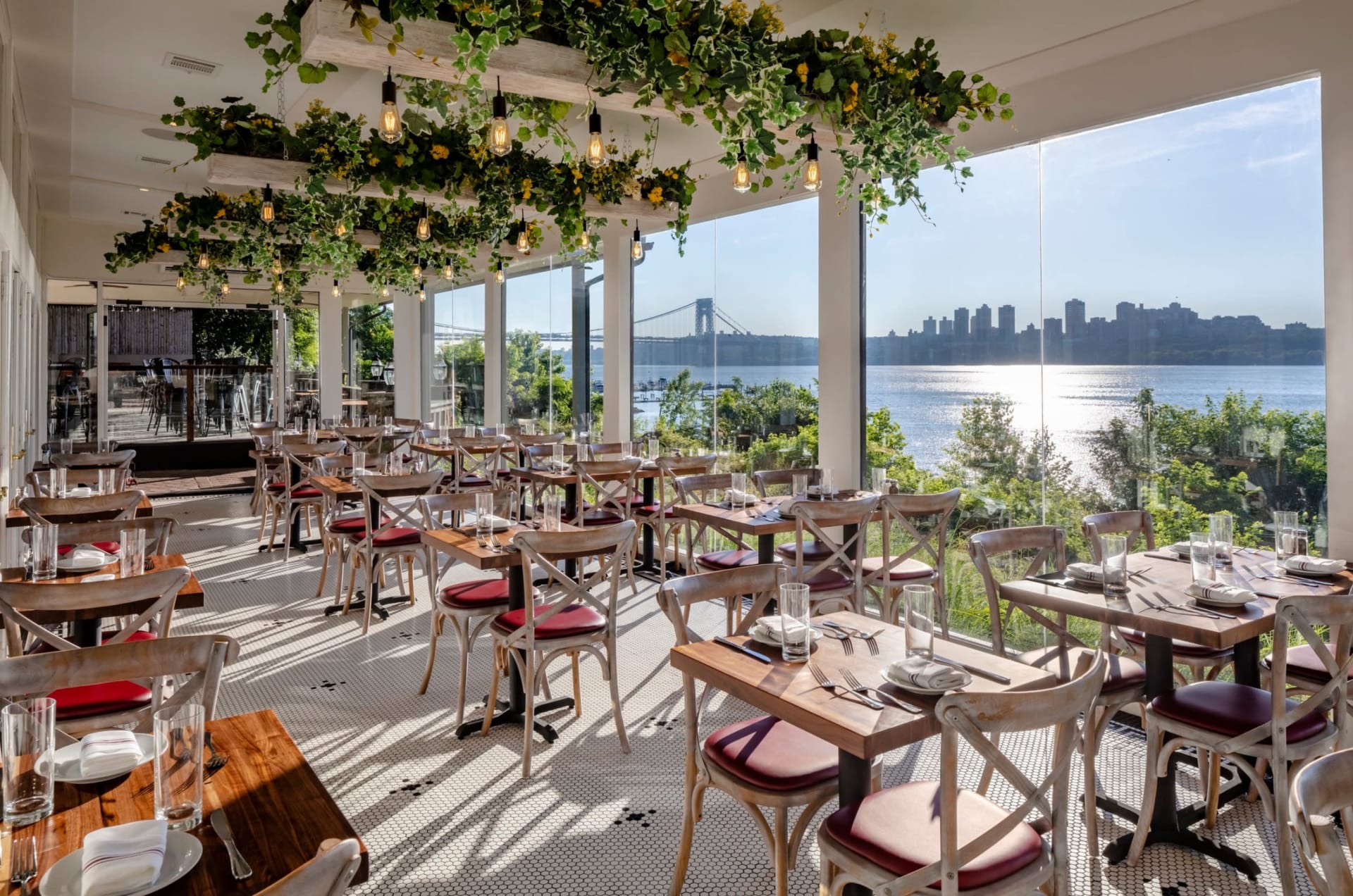 This European pub-inspired restaurant stands out with its unobstructed views of the New York City skyline and George Washington Bridge. De Novo's outdoor seating should be your go-to when it's available. However, the indoor dining room also provides breathtaking waterfront views with a light and airy atmosphere. You can always enjoy a margarita, espresso martini, tasty grilled octopus, seared tuna, and filet mignon,
5. Ho-Ho-Kus Inn & Tavern - Ho-Ho-Kus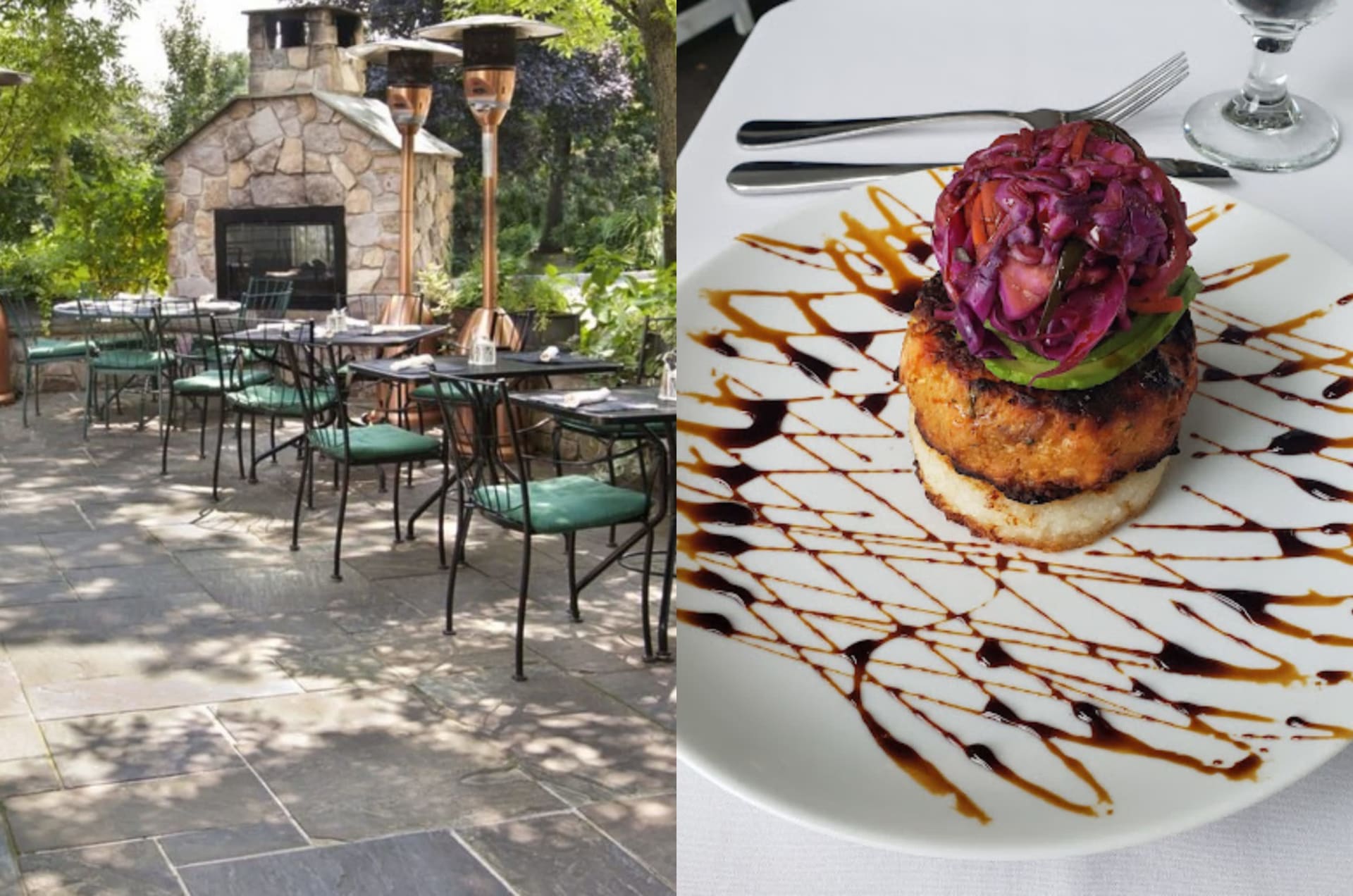 The Ho-Ho-Kus Inn, located in the heart of Ho-Ho-Kus, New Jersey, is a historic landmark serving guests since 1796. The inn has a rich history and a charming old-world ambiance inside and offers outdoor dining on a spacious bluestone patio. What's not to love about dining alfresco at this historic tavern-turned-new-American restaurant where you can devour fresh oysters, warm pretzels, a salmon burger, and a fabulous cocktail menu?
6. Sofia - Englewood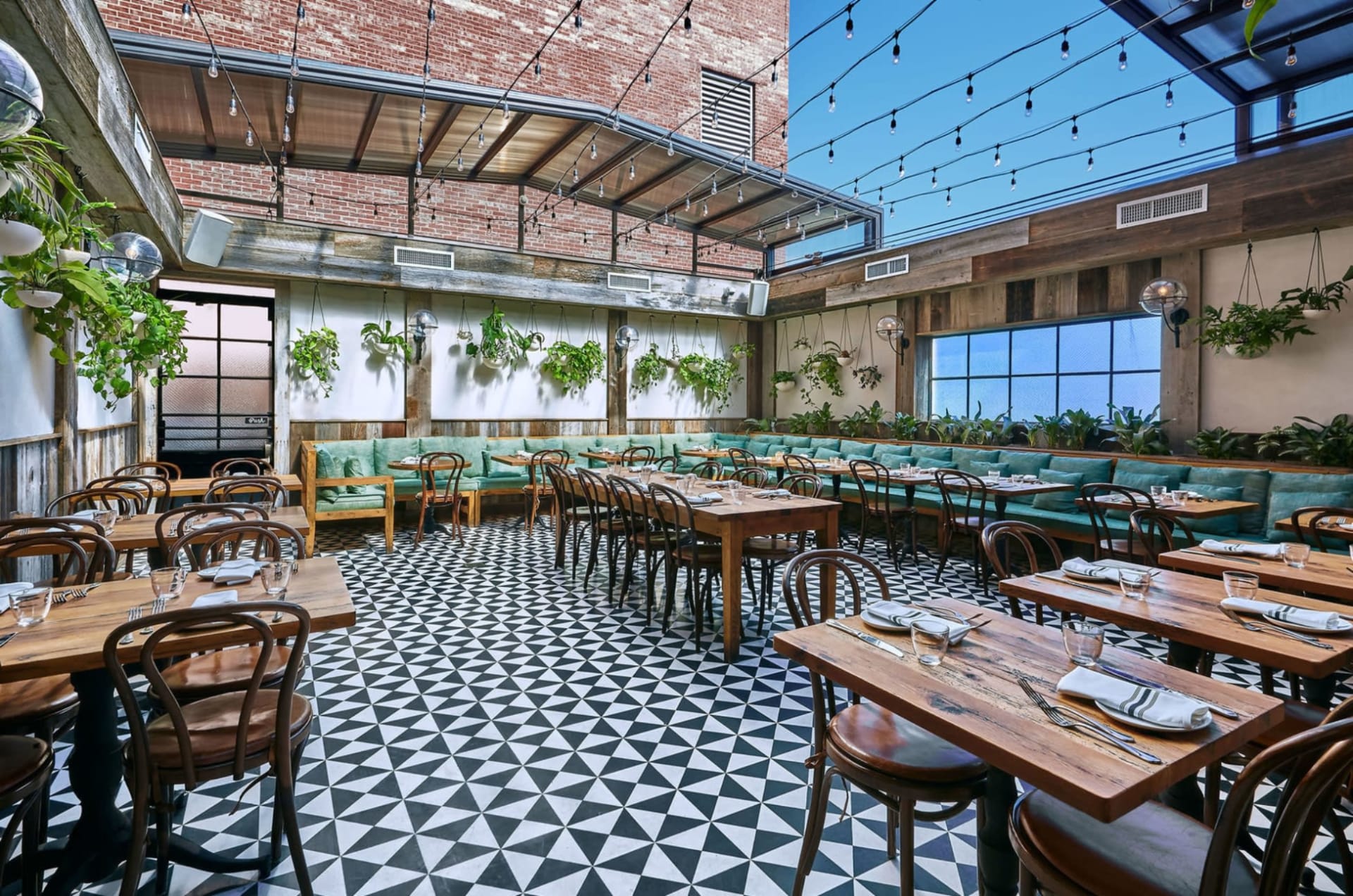 Sofia defines dining in style. Set in the heart of downtown Englewood, this sleek Italian steakhouse has become one of trendiest restaurants in Northern New Jersey. What to expect: farm-to-table Italian dining, a creative cocktail menu, multiple dining areas, and a speakeasy-style cigar lounge and bar. The restaurant's layout includes a 2-story main dining area with mirrored walls and a windowed vaulted ceiling, a rooftop with stylish black and white tiled floor, and an 80-seat heated pergola dubbed "Piazza Sofia."
7. Liberty House - Jersey City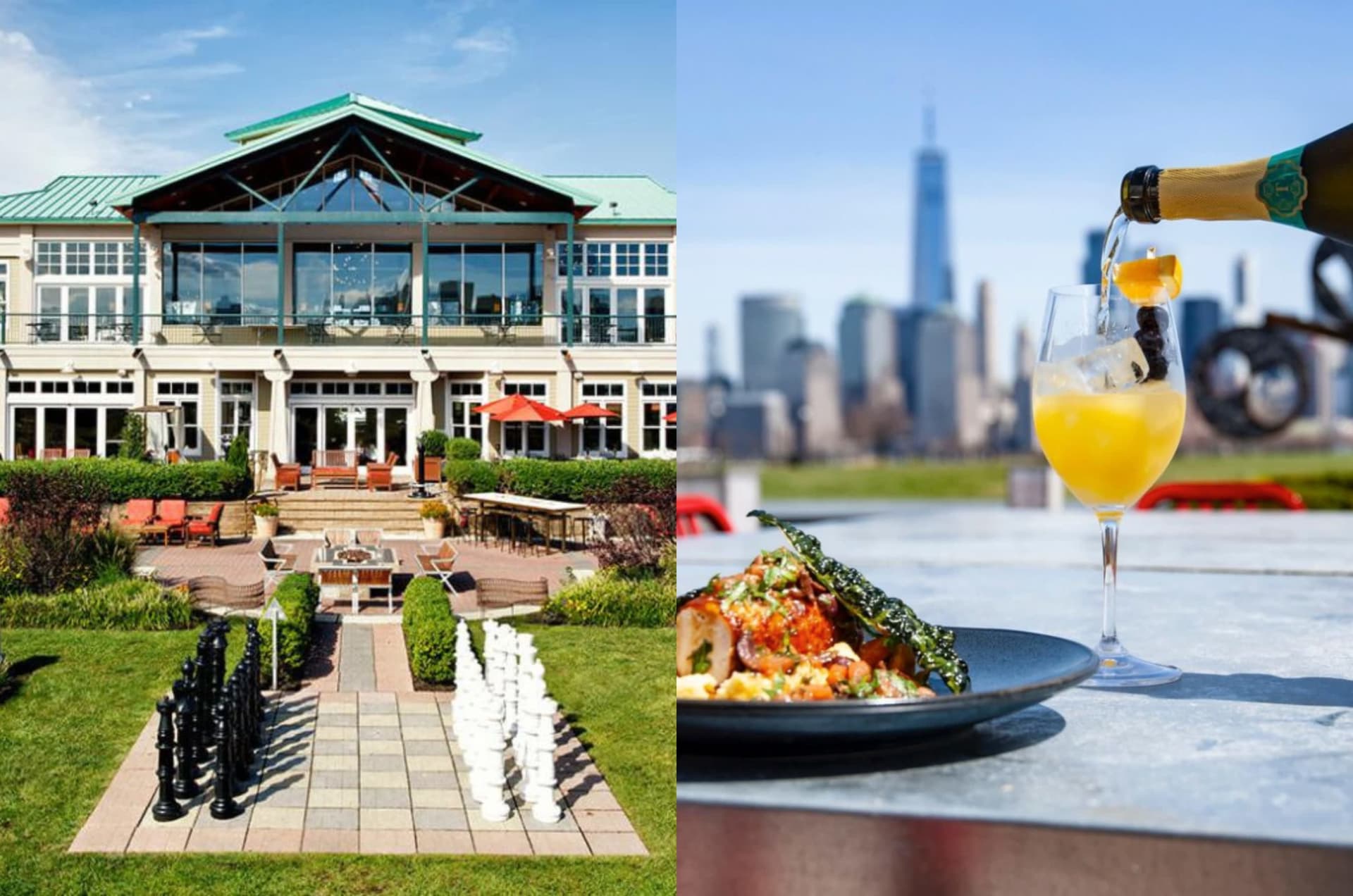 The restaurant's tagline is "a room with a view" for a reason. Set inside Liberty State Park in Jersey City, Liberty House offers an outside dining area with incredible views of the city. The menu is modern and appealing, with dishes such as grilled Painted Hills all-natural rib-eye served with Tuscan kale, baby gold beets, and Faroe Islands Scottish salmon. Not only is it a fabulous restaurant for date nights and birthdays, but it also is a popular wedding venue.
8. Hudson & Co. - Jersey City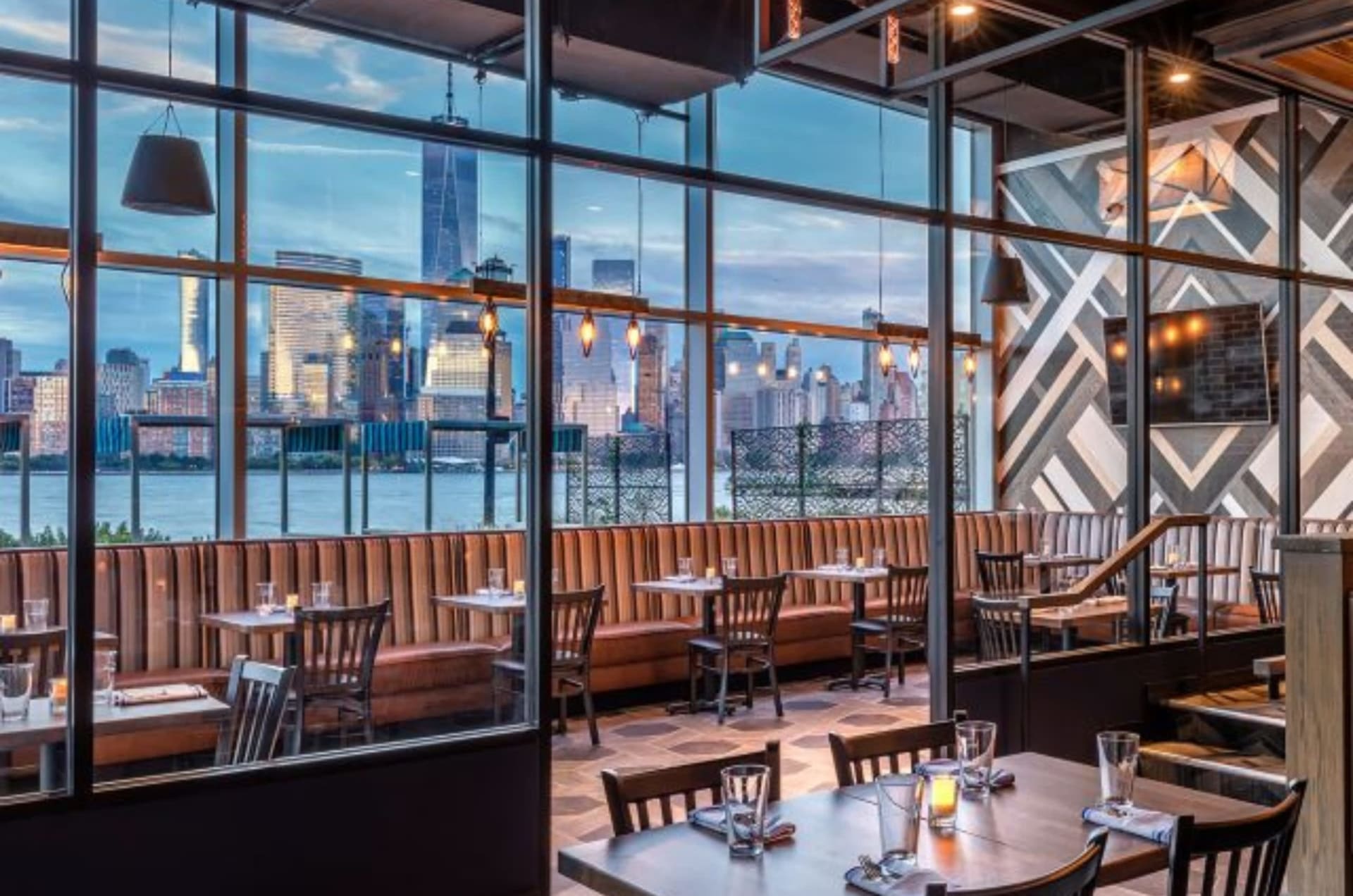 First and foremost, you visit this nautical gastropub for the views. The 12,000-square-foot space is a hard-to-miss dining destination in Jersey City's Harborside. While featuring multiple indoor and outdoor dining options, the entire establishment boasts unparalleled views of the Manhattan skyline across the Hudson River. All of that, plus great cocktails and a seafood-heavy menu.
9. La Lanterna - Ridgewood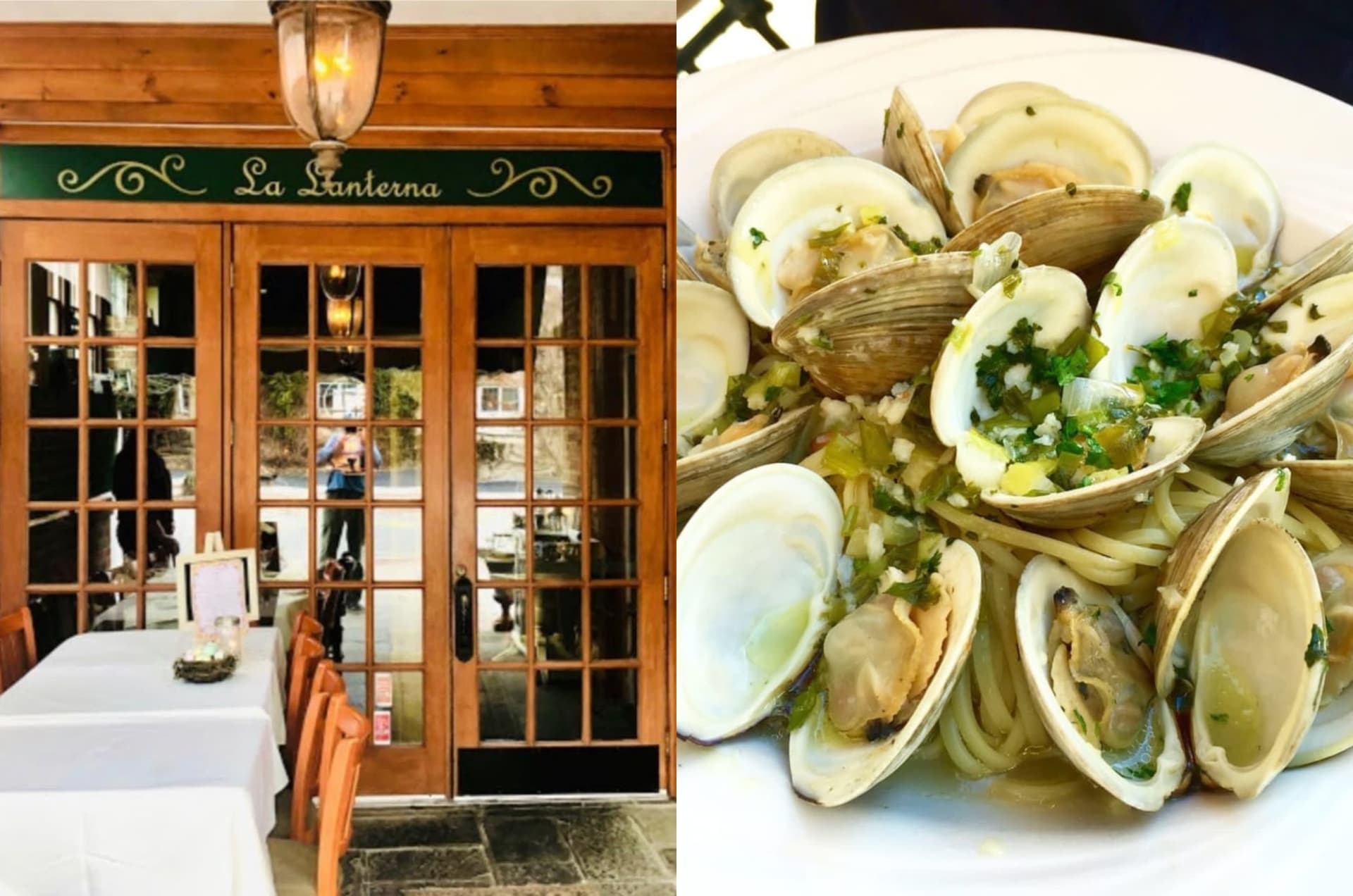 La Lanterna is an upscale Italian restaurant with a Tuscan ambiance that operates only during dinner hours. It offers outdoor seating on sunny days, prioritizes locally sourced ingredients, and serves a variety of Italian classics and seafood dishes. The restaurant is family owned and offers a range of dishes, including classic Italian favorites like carbonara and authentic Italian pizzas, mussels, lobster, and scallops.
10. The Highlawn - West Orange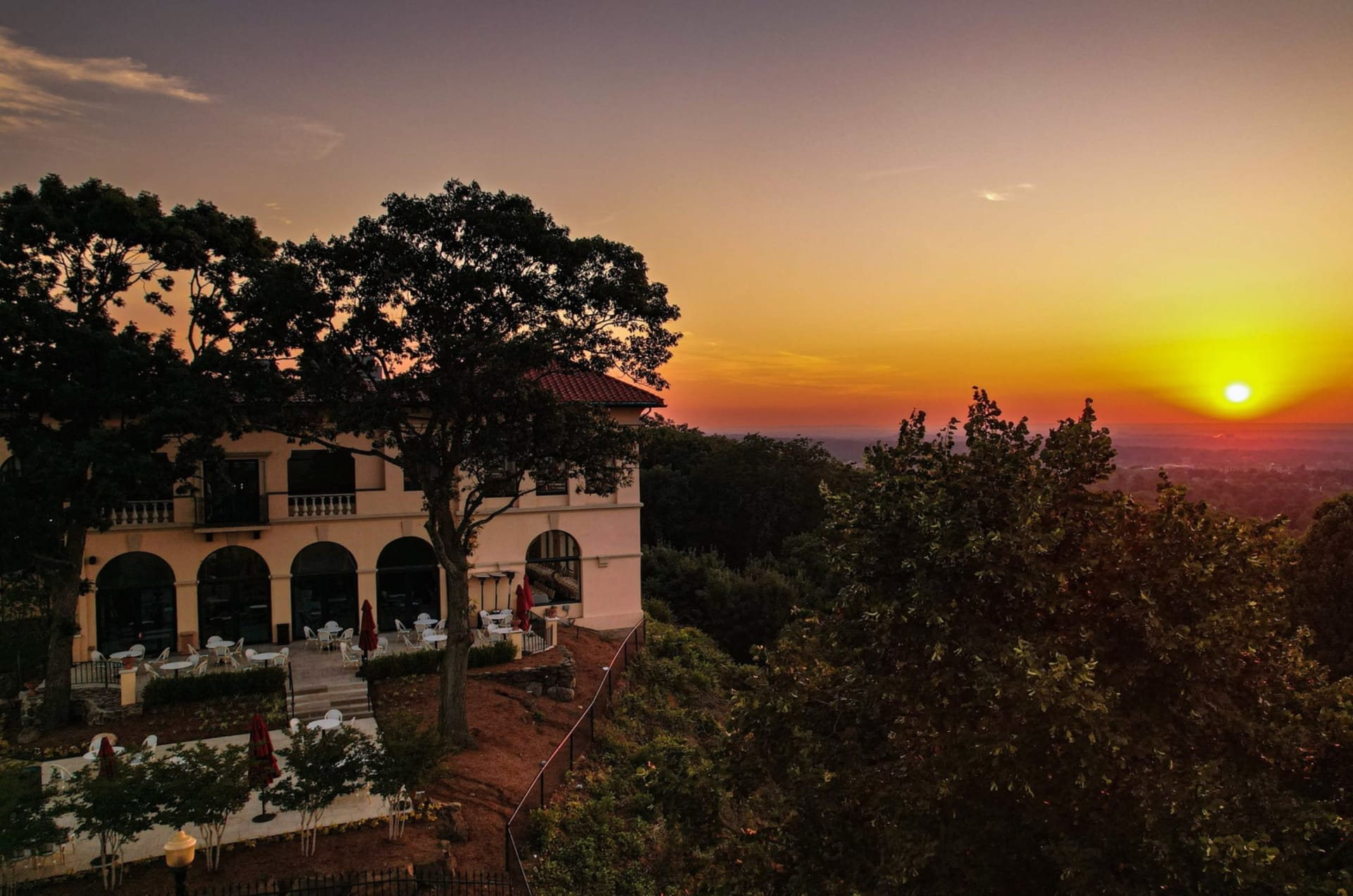 The Highlawn presents an awe-inspiring panoramic vista of the New York City skyline, complemented by three distinct outdoor dining spaces. Guests can relish their meals on the primary level patio, upper terrace, or upper patio. Their menu boasts delectable options for lunch, such as the Chicken Milanese, dinner with choices like Branzino, and Sunday brunch featuring Breakfast Pizza. Additionally, the bar offers an array of beverages. This splendid and adaptable locale is ideal for various occasions, be it a wedding, brunch on the upper terrace on sunny spring days, or an intimate dinner.