Ridgewood, New Jersey: A Historic Suburb With a View of the City
For more than a century, the Bergen County village has drawn buyers with its "interesting and beautiful" homes and its upscale shops and restaurants.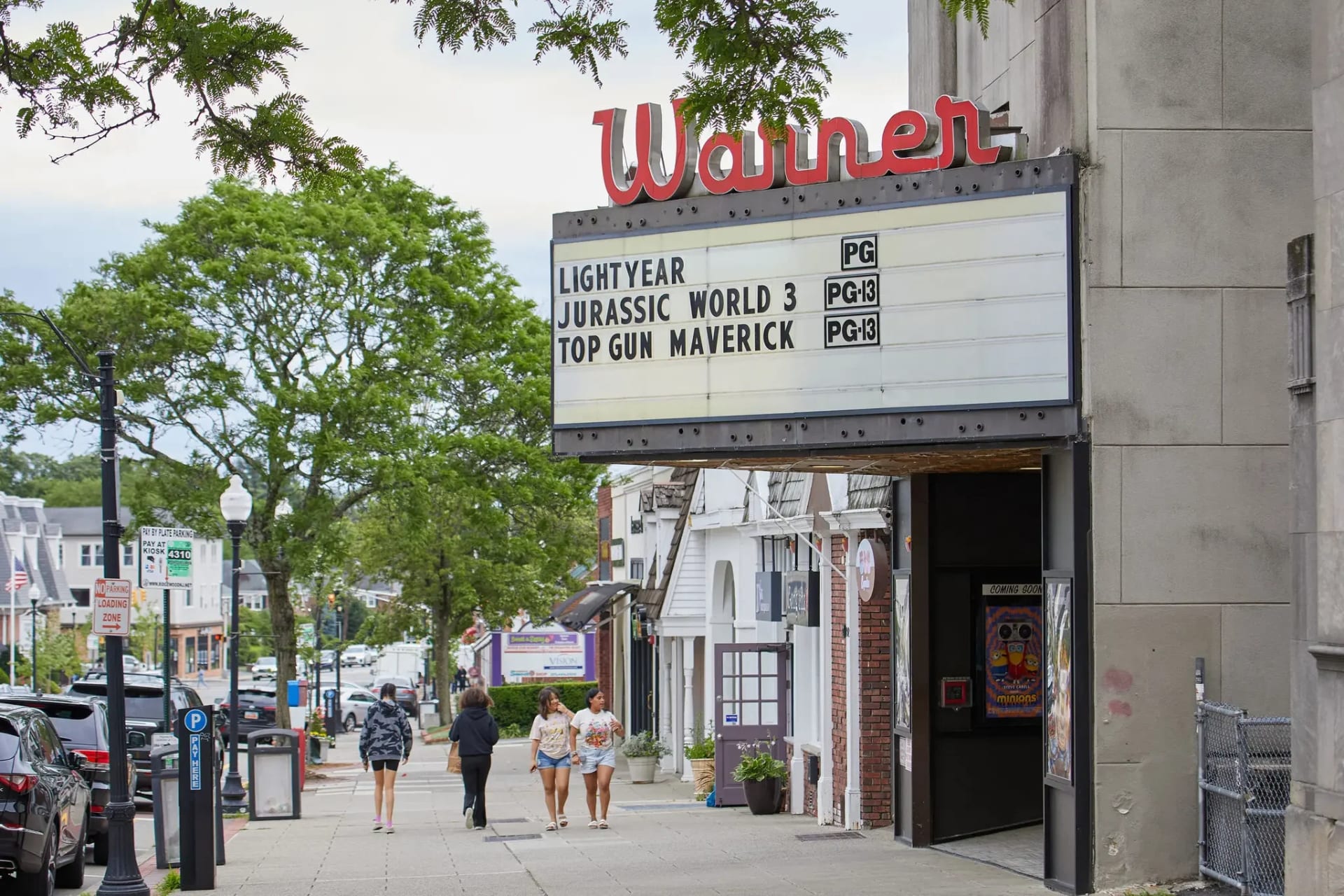 Laura Moss for The New York Times
When Corey Kaylor learned two years ago that his medical brokerage company was transferring him to New Jersey, his wife, Michelle, was delighted to be returning to the Northeast, where she grew up. But after years of moving around the country — most recently spending six years in Arizona — neither she nor anyone else in the family knew much about living in the New York metropolitan area.
During an exploratory mission in September 2020, driving around Bergen County in North Jersey, they stumbled onto Ridgewood, which reminded Mr. Kaylor of the fictional town depicted on the TV series "The Gilmore Girls."
"We didn't know anything about the area at all, but we fell in love with Ridgewood," said Ms. Kaylor, 45, a real estate home stager. "It felt like Stars Hollow, with all the outdoor dining and a guy playing guitar in the village square. My husband said, 'Hey, they even have a town troubadour here.'"
But finding a house in Ridgewood at the height of the pandemic-driven suburban migration wasn't easy. The Kaylors lost five bidding wars before finally buying a 100-year-old Tudor-style house with five bedrooms and three and a half bathrooms last June, paying $1.28 million.
The Kaylors' discovery of Ridgewood does not surprise Christine Gubb, a real estate agent with Keller Williams, who has lived in the Bergen County village for 50 years. "Ridgewood is on everyone's radar," Ms. Gubb, 65, said. "If someone is relocating to this area, and they ask, 'Where should I move to?' they are told, 'Go to Ridgewood.'"
For more than a century, the village has appealed to professionals drawn to the highly rated schools, the commercial district with its restaurants and upscale shops, and the large homes.
Laura Moss for The New York Times
Credit...
With two small children and a third on the way, Allyse and Raymond Bader decided last winter that it was time to leave their two-bedroom apartment on the Upper West Side of Manhattan and begin exploring options in Connecticut, Westchester County and North Jersey. Ridgewood seemed a good fit, evoking what Ms. Bader, 37, called "that Upper West Side feel, with the old and new architecture that was interesting and beautiful." In May, the couple closed on a five-bedroom Tudor-style house built in 1930 and fully renovated in 2014, paying $1.9 million — about $200,000 over the asking price.
Their June move-in date was postponed when Ms. Bader, who works in curriculum development at Columbia University's Teachers College, went into labor two weeks early. Now a mother of three, she is anticipating the move to "a nice, walkable town and a really strong community," she said. "I just can't wait to be settled."
Esther and Josh Louis are another couple who left the Upper West Side for Ridgewood. For the past year, the couple and their 7-year-old son, Henry, have been living in Mr. Louis's parents' house, sleeping in his childhood bedroom. In July, they will be moving into the four-bedroom center-hall colonial that they bought for $1.457 million.
"It's been an emotional roller coaster," said Ms. Louis, 48, a senior manager at the Royal Bank of Canada. "We're looking forward to finally getting off this ride."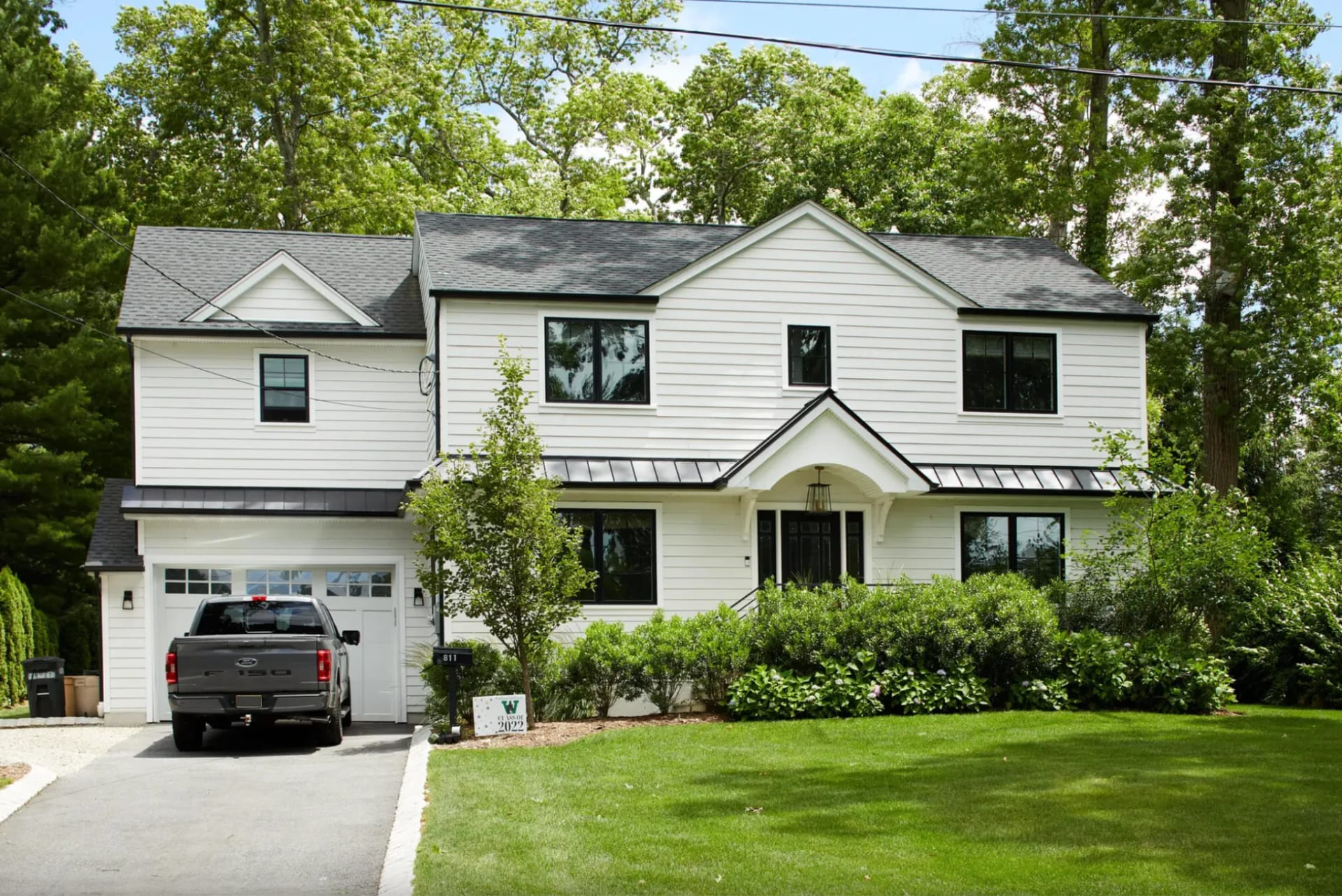 Credit...
Laura Moss for The New York Times
What You'll Find
Ridgewood has six residential districts named after nearby elementary schools: three on the east side of the train tracks that bisect the village, and three on the west side.
The Heights, a neighborhood in the Ridge District on the west side, has streets that climb high enough to afford views of the New York City skyline, and the homes there are among the village's most expensive. But many of Ridgewood's approximately 26,000 residents prefer to live on the east side, within walking distance of the high school and downtown.
Much of the housing was built in the late 19th and early 20th centuries, after the train lines from New York expanded west and Ridgewood became a summer getaway for city residents. The facades of these older Victorian and colonial houses remain intact, for the most part, though many interiors have been drastically altered.
"Buyers love the exterior charm of the historic homes, but they want the inside to be all updated," said Christina Gibbons, an agent with Christie's International Real Estate and a 16-year resident of the village. "If it's already been renovated, it's a home run; if they have to do it themselves, they might pause."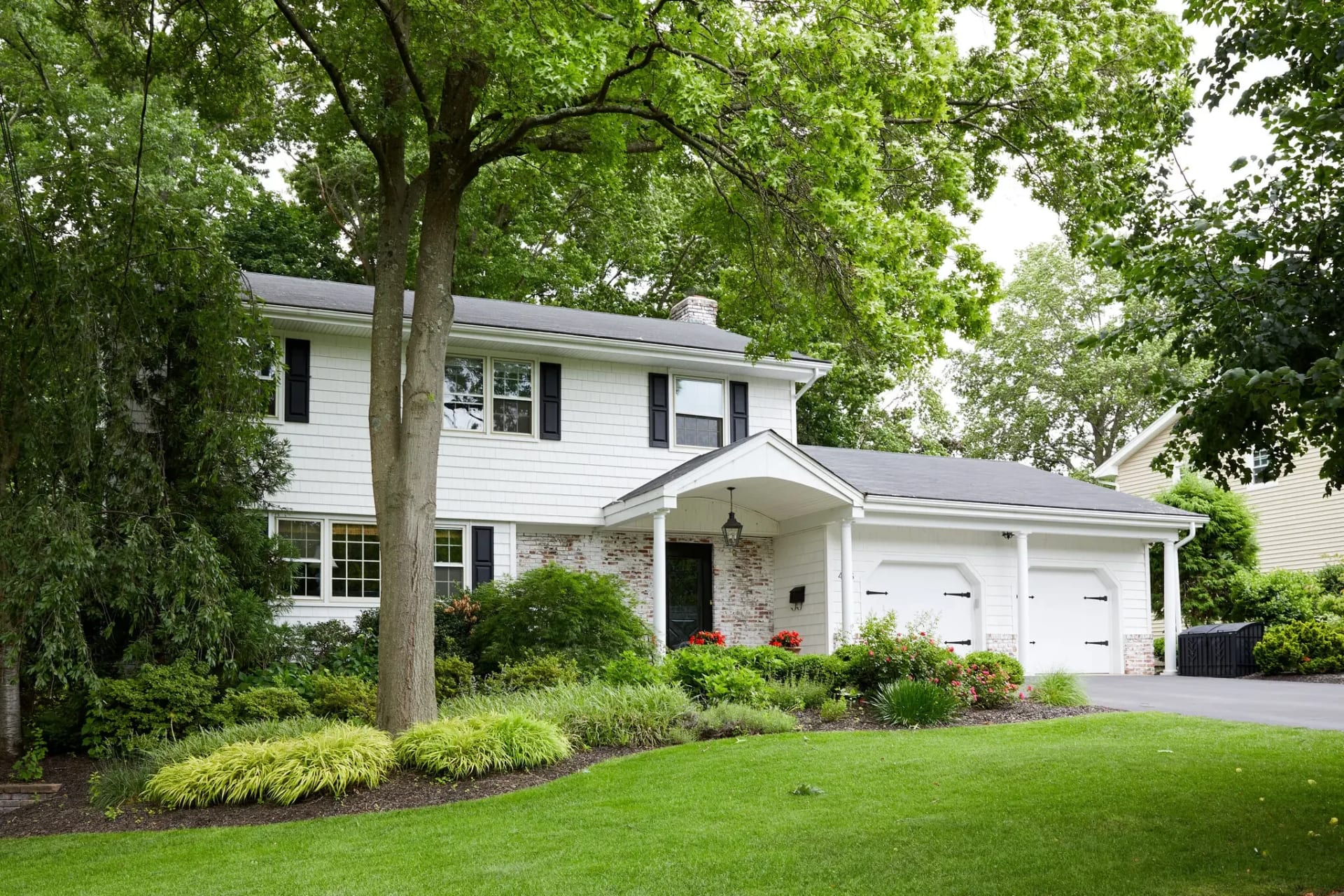 Credit...
Laura Moss for The New York Times
While families with children are drawn to the schools, Ridgewood also appeals to those seeking a metropolitan setting. After realizing she could do most of her association management work remotely, Susanne Warfield left New York City 16 years ago in search of a quieter place with a sense of life. She paid $687,000 for a four-bedroom Dutch colonial house in Ridgewood, which she shares with her 75-pound German Pointer, Harry.
"I'm a single, professional woman, and I didn't want to be someplace that was all just houses," Ms. Warfield, 60, said. "I like that there are so many restaurants. And every morning there are lots of people walking by. I don't have kids in the school system, which accounts for most of our taxes, but that's the cost of doing business and living in a place like this."
What You'll Pay
In late June, the New Jersey Multiple Listing Service showed 35 homes for sale in Ridgewood, with an average list price of $1.15 million. The most expensive was a five-bedroom Mediterranean-style house built in the early 1900s on 0.8 acres, listed for $2.85 million; the least expensive was a four-bedroom colonial built in the 1950s, listed for $545,000.
The median price of the 136 houses sold through June 22 of this year was $961,500; during the same period in 2021, 143 homes sold at a median of $810,000.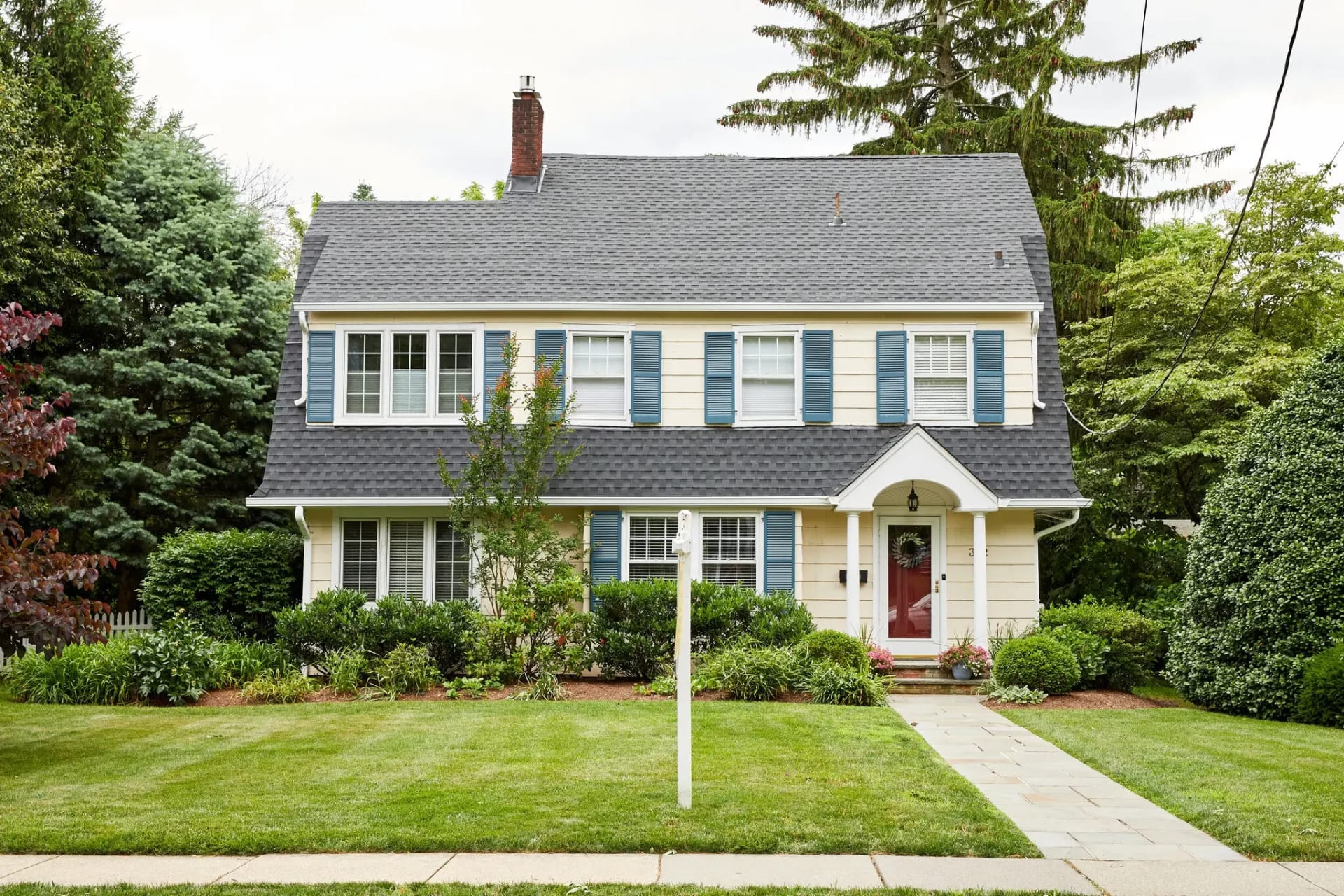 Credit...
Laura Moss for The New York Times
Rentals are scarce. While four new complexes have gone up in recent years, most apartment buildings have waiting lists. Recently available apartments included a one-bedroom in the older Mayflower Apartments for $1,890 a month and a two-bedroom, two-and-a-half-bath unit in the Dayton, a newer building near the center of the village, for $5,730.
The Vibe
Downtown Ridgewood has more than 100 restaurants and an equal number of shops on the streets surrounding Van Neste Square Memorial Park, at the center of town. The village is also a cultural hub: Bookends bookstore is a stop on many authors' book-signing tours, and the Ridgewood Guild International Film Festival is held annually at the 1932 Art Deco Warner Theater, now a Bow Tie Cinema.
A popular gathering spot is Graydon Pool, a natural swimming hole at the center of the village that offers swimming programs, tennis and pickleball courts, and playgrounds, with seasonal memberships for $130 (or $30 for seniors). Part of the 577-acre Saddle River County Park — including a wild duck pond and a dog park — is also in Ridgewood.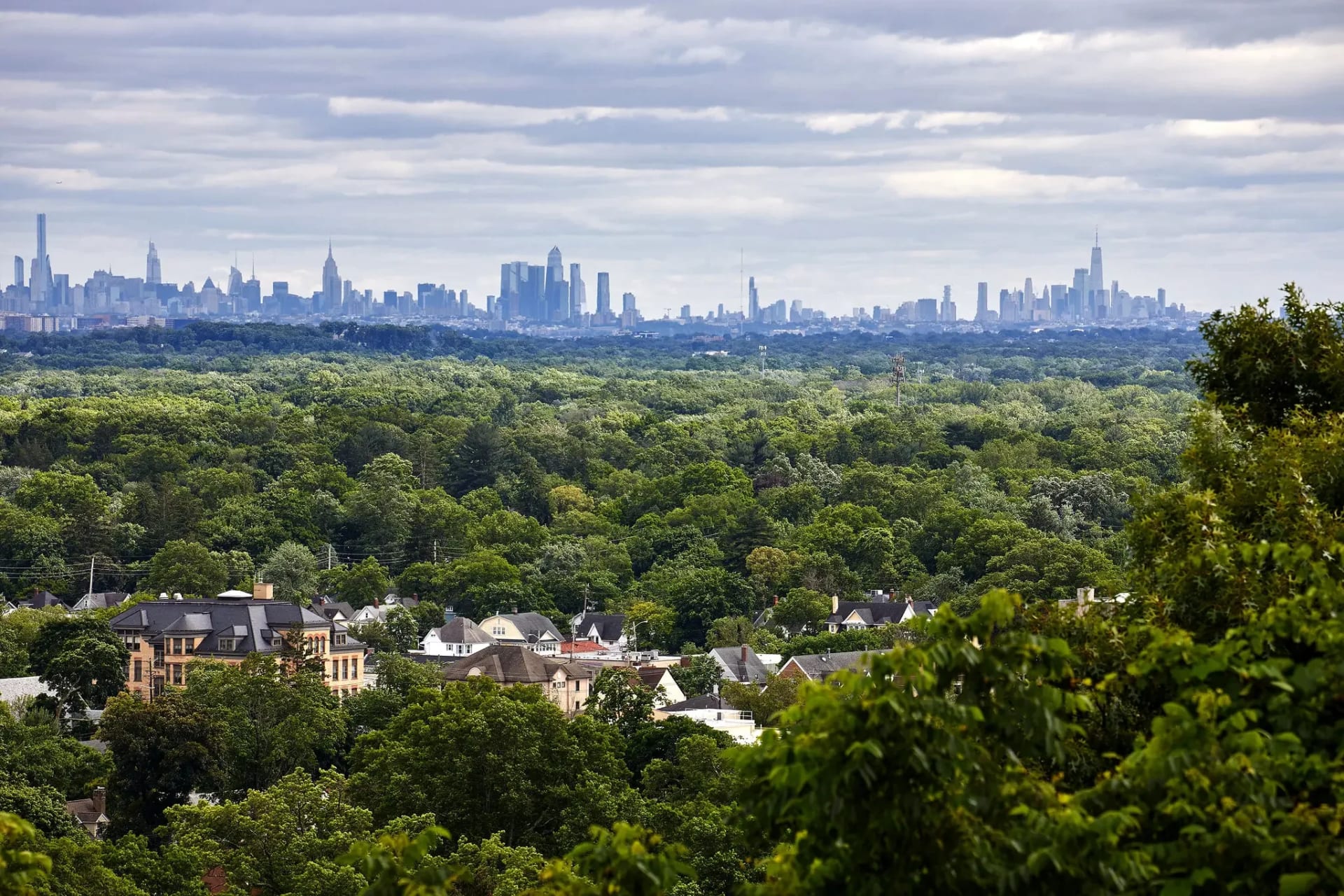 Manhattan's skyline can be seen from Crest Road, in the Heights neighborhood on the western side of the village. Laura Moss for The New York Times.
The Schools
Ridgewood's six elementary schools — Hawes, Orchard, Ridge, Somerville, Travell and Willard — define the neighborhoods and, to some extent, residents' experience of living in the village, as families tend to pledge loyalty to their local schools.
Preschoolers attend Glen School, while students in sixth through eighth grades go to Benjamin Franklin or George Washington Middle School.
Ridgewood High School serves about 1,700 students and is consistently ranked among the state's top public high schools, with 94 percent of students going on to college. The high school offers 69 honors classes and 30 Advanced Placement courses. Average SAT scores in 2020-21 were 635 in reading and writing and 651 in math, compared with state averages of 557 and 560.
Private school options in the area include Academy of Our Lady, a Catholic school in Glen Rock serving students in prekindergarten through eighth grade, and Immaculate Heart Academy, an all-girls Catholic high school in Washington Township.
The Commute
New Jersey Transit provides train and bus service between Ridgewood and New York City.
Trains to Penn Station in Manhattan take about an hour, with a transfer in Secaucus; tickets are $9.75 one way or $298 for a monthly pass. N.J. Transit buses 163 and 164 make the trip from Van Neste Square to Port Authority in Manhattan in 80 to 90 minutes; the fare is $7 for a one-way ticket or $199 for a monthly pass.
The History
The spring-fed Graydon Pool — more like a pond than a swimming pool — was created in the 1920s by damming a portion of Ho-Ho-Kus Brook, and expanded in 1936 as part of a Works Progress Administration project. In 2009, a debate erupted over a proposal to replace the sandy-bottomed, 2.68-acre swimming hole with a concrete-lined, chlorinated pool. But the recession brought an end to that effort, and the pool remains in its natural state today.