September At The Jersey Shore
The post–Labor Day season offers even more to love down the Shore and many fabulous ways to celebrate the end of summer, including festivals and concerts, less crowded beaches, and fantastic dining options. Whether you're seeking relaxation or adventure, Monmouth County's coastal haven has something for everyone. Plan a perfect weekend getaway with our insider tips on enjoying the end of Summer and start of Fall on the New Jersey Shore from Christina Gibbons Group's coastal team.
Festivals & Concerts

Sea.Hear.Now - Asbury Park, NJ - Weekend Music Festival in September
45th Annual Festival Of The Sea
When: September 16, 2023 | 10:00 AM - 7:00 PM
Attention seafood lovers! Point Pleasant, located just outside Monmouth County, will be holding its 45th Annual Festival of the Sea this September 16th in downtown Point Pleasant Beach. The festival will feature 250 craft vendors, local restaurants, and include live music, games, free shuttles, a beer and wine garden and plenty of family-friendly activities.
Sea Hear Now
When: September 16-17, 2023
Get Ready To Rock the Beach at Sea.Hear.Now! This two-day music festival will feature 25 bands on three stages: two in the sand and one in the park, all on the iconic Asbury Park Waterfront. Eat to the beat while exploring one of the best Jersey Shore boardwalks featuring curated eats from Jersey, NYC and Philly. Lineup highlights: The Killers, Foo Fighters, Sheryl Crow, The Beach Boys, Weezer, and Mt. Joy.

Asburyfest
When: Sept. 22, 5PM - 10PM | Sept. 23, 11AM - 10PM | Sept. 24, 11AM - 6PM
This three-day festival, formerly known as Asbury Park Oysterfest, will feature food, beer from Asbury Park Brewery, live music and crafts in the City by the Sea. Food vendors include Del Toro Tapas, Ike's Famous Crab Cakes, and Naya Sushi on Wheels, among more than two dozen others. Beer from Asbury Park Brewery will be available, and craft vendors include Irish Lass Jewelry, Jersey Plate Art, Jersey Mermaid Co., Shore Cuterie, Outer Limits Hot Sauce, River Fibers and The Fir Farm, among others. The perfect recipe for a cool weekend in the hottest town at the Jersey Shore!
Drinks & Dining


Parker House - Sea Girt, New Jersey - Aerial View During Off Season
The Parker House: Lobsterpalooza & Sunday Football
When: Lobsterpalooza - Wednesday's 5:00PM - 10:00PM | Football - Sunday's at 12:00PM
Serving fine food and good times since 1878, this seaside destination has earned a reputation as the place to be during summer. While the Parker House typically closes for the season around Labor Day, they are shaking things up this year! On Wednesdays throughout September and October, head to the Parker House for Lobsterpalooza and enjoy the restaurant's $18.95 Lobster Dinner Special. Also, the Raw Bar will still be open every Sunday for Football after Labor Day.
The Breakers on the Ocean: Sunsets, Cocktails, Appetizers
Spring Lake, NJ
When: Year-Round
The Breakers On The Ocean is a landmark in Spring Lake, a top Jersey Shore exclusive community, and a perfect year-round getaway destination in NJ. While Breaker's indoor dining is fantastic, serving up a prime culinary experience with a coastal theme, scenic beach views, seafood, and Italian fare, our favorite part about this hotspot is the outdoor area. Head to Breaker's wrap-around porch and indulge in a cocktail and appetizer while taking in scenic views of September sunsets at the Shore - a perfect photo op!
Rooney's Oceanfront Restaurant: Top Ranked by Open Table
Long Branch, NJ
With summer winding down, locals and off-season visitors can finally get a dinner restaurant at this award-winning restaurant! Named one of the most popular outdoor dining restaurants in America by Open Table, its no wonder that you have to make a reservation weeks in advance in summer months. Now's the time to seize the opportunity to get a table while savoring the remaining warm days of summer!
9th Avenue Pier: Marina Dining & Mini Golf
Belmar, NJ

When: Year Round

Located in the Belmar Marina this outdoor restaurant is a fantastic casual spot for grabbing lunch, dinner, and drinks while taking in the gorgeous views of The Shark River. The menu offers a mix of seafood, bar-snacks, wraps, burgers, and salads. If you are looking for a fun spot for a date night, grab one of the restaurant's infamous rum buckets, fresh oysters from the raw bar, and then head on next door for a game of mini golf.
Free Beaches & Fewer Tourists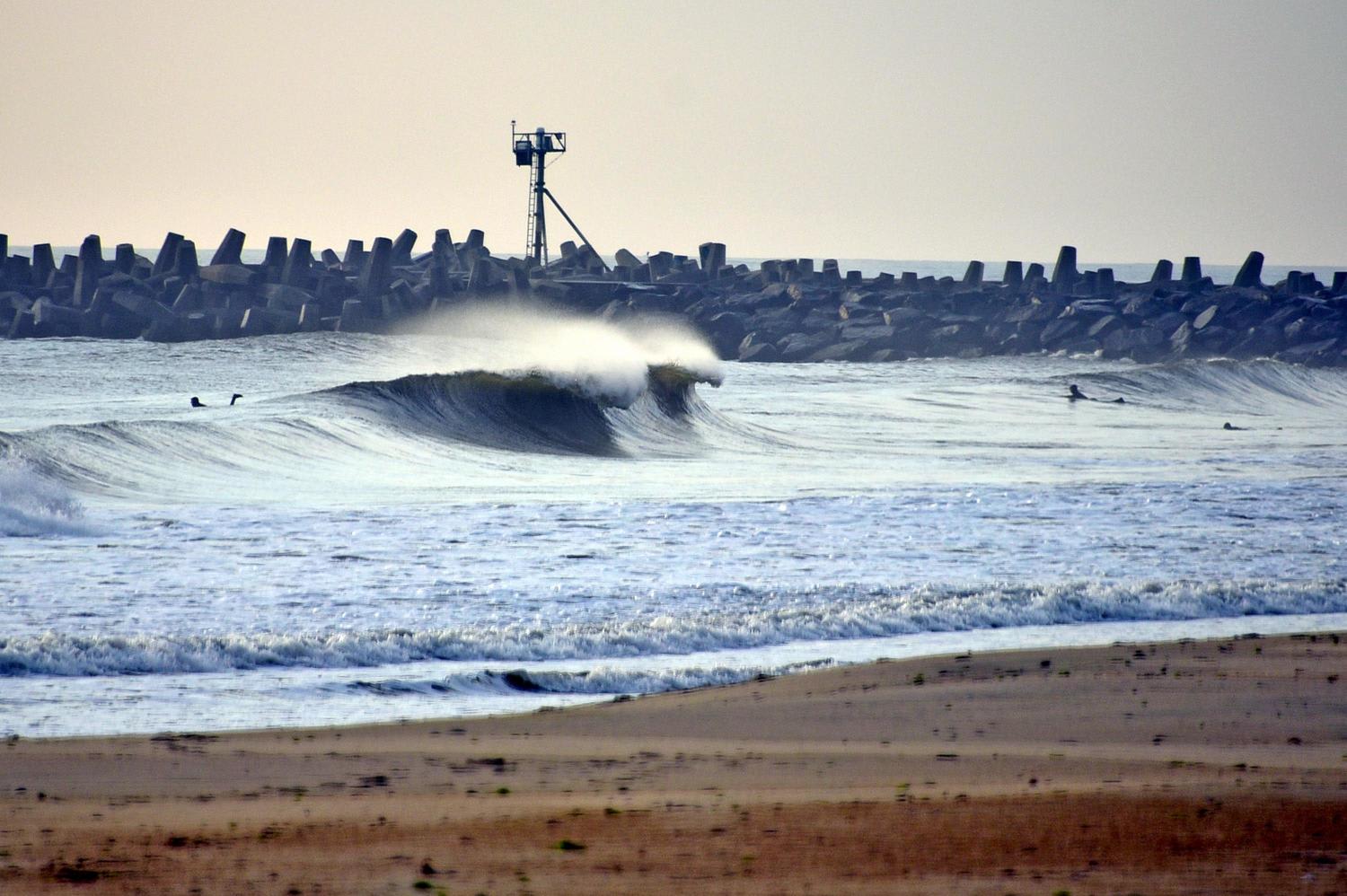 Manasquan Inlet Beach - Manasquan New Jersey - Off Season Surfing
Seven Presidents Oceanfront Park
Long Branch, NJ
As one of the largest towns along the Jersey Shore, Long Branch always has cool family friendly activities happening. The Seven Presidents Oceanfront Park is a 38-acre park along the Atlantic Ocean that offers a great spot for surfing, swimming, or just relaxing under the sun. With cooler days ahead, it's also a great place for a quiet walk along the boardwalk. Bonus: there is no admission fee after Labor Day weekend!
Small-Town Boardwalk Strolls
Avon By The Sea, Ocean Grove, and Bradley Beach, NJ

Avon, Ocean Grove, and Bradley Beach are small towns in the Central Shore region. The boardwalk spanning these quaint towns have several attractions, from restaurants and regular events to sights of unique Victorian architecture. Locals love this boardwalk since it is one of the quieter and less crowded ones on the Shore. Enjoy a serene jog, sit under one of their boardwalk gazebos to enjoy ocean views and a gentle breeze, or bring the family to enjoy some of the nearby attractions, such as the Avon Pavillion, for some fine dining and oceanfront views or opt for one of their nearby local delis for a delicious lunch!
Grab Your Surfboard: Inlet Beach
Manasquan, NJ

Manasquan is known for having some of the best surfing waves along the east coast. Since it's one of the best, it's also the most crowded during the summer. With back-to-school and cooler months on the horizon, now is your chance to surf in less crowded waters!
Bottom Line:
As summer draws to a close and we enter into Autumn, the Jersey Shore invites you to embrace its beauty and vibrancy one last time. Whether you're lounging on the beach, exploring the boardwalks, or indulging in water sports, there's no shortage of ways to celebrate the end of the season. If you decide to make a stop in Monmouth county this September and are interested in setting up a private consultation or getting out for showings, contact Christina Gibbons Group's expert Coastal Team to discuss your real estate needs and make an appointment.
Christina Gibbons Group
Call 917.837.8853